Created: Nov 12, 2020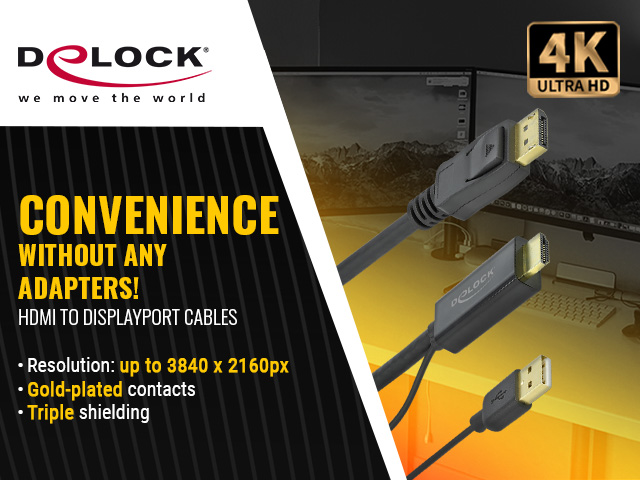 Following the latest trends, modern laptops are becoming faster, more efficient, and lighter. You don't have to carry a heavy-weight "contender", like before. Such a step taken by the laptop manufacturers is very convenient for the end-user until we want to e.g., connect it to a 4K monitor with the DisplayPort input to fully enjoy UHD content.  
We look at our ultralight laptop's side, and there is only one HDMI and a few USB ports. This is probably quite a well-known scenario, especially for office environments. Delock rushes to the rescue so that we don't have to ruin our neat cabling/equipment setup with adapters - offering these unique cables. 
What makes these cables so special?
The very fact of existence! Until recently, there were no cables on the market offering such an operating scheme: HDMI input> DisplayPort output. Also available is the input USB cable, which serves as a power supply here. 
High quality and efficiency all rolled into one
Delock has not spared any expense regarding the materials and the main features of these cables, which are: 
Support for 4K resolution - 3840 x 2160 px

Compliance with 3D technology and displays

Triple shielding - effective protection against signal interference 

Gold-plated pins - a guarantee of longer product life 
What cables lengths are available?
To meet the individual needs of users, Delock has offered the following cable lengths: 1/2/3/5/7/10m. This is certainly enough to hook up our laptop to the TV/monitor, regardless of whether it is right next to us or a few meters away, high on the wall.
Learn more: 4K HDMI TO DIISPLAYPORT CABLES FROM DELOCK