Created: Nov 13, 2020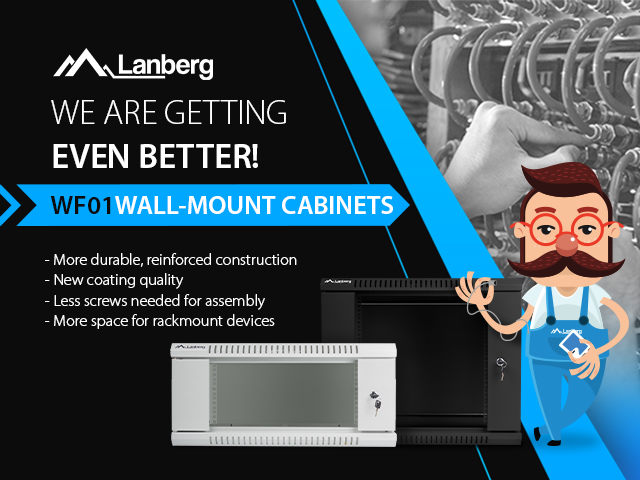 Lanberg server cabinets have a special place in the portfolio - they are the flagship product within the network solutions offer. Every effort possible is taken to ensure that these passive networking accessories' quality, durability, and functionality are at the highest possible level.
Therefore, we are pleased to announce that selected models of 19" wall-mount server cabinets WF01 series have been upgraded to version 2!
What has been changed?
The most significant improvements concern:
The cabinet design - it has been reinforced to make it more robust.

The coating< - with the use of newer technology, the surface layer of the cabinet is not only more aesthetic but also more durable.

The assembly simplicity - the number of screws needed for installation has been reduced. For end-users, it means less work and time savings.

The mounting depth - now even longer rackmount devices will fit within the server cabinets. What's more, the customers also has more freedom to install and organize the cabling.
Will the wall installation process remain the same?
Actually, no - Lanberg, to make things easier for users, included a wall mounting strip in the packaging. No more problems with expansion anchors!
So all WF01 series models have been upgraded to version 2?
The manufacturer is currently working on it, so at the moment, only a few selected models of WF01 cabinets have changed the above-mentioned aspects. These are:
WF01-6404-10S

WF01-6604-10B

WF01-6609-10B
What about older rackmount accessories? Will they fit?
The vast majority of Rack accessories [shelves, cable organizers etc.] are a perfect fit. Moreover, the product descriptions of the above listed WF01 series cabinet models include additional information should any related accessory not match the improved 2nd version of this cabinet.
Be sure to check the accessories list on the product page, which is updated by Lanberg in real-time.