Created: Feb 2, 2021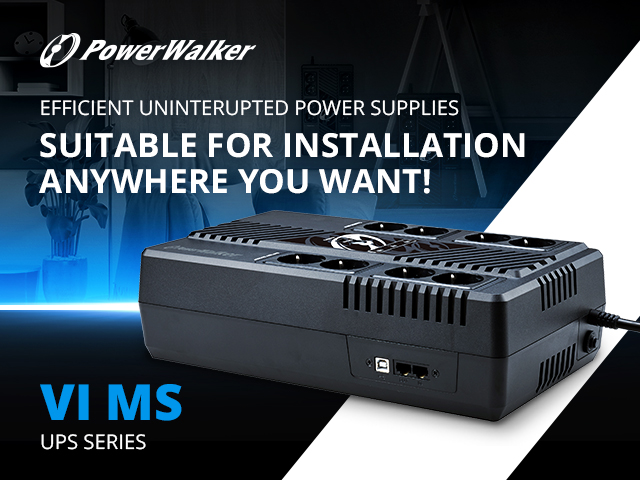 Finding "the perfect UPS" for your home is one heck of a challenge. In most households, due to the limited space, you cannot fit a large UPS loaded to the brim with batteries for very long backup times. Such a device is also not the quietest, which may bother many. Do not worry though - PowerWalker, with home applications in mind, has created a very interesting UPS option free of these drawbacks - VI MS series!
Simple device installation... practically everywhere, even on the wall!
It may sound like a wild fantasy, but it is actually possible with these new UPS models. This is all thanks to the custom-designed elongated structure, low UPS weight, and the bottom of the device allowing a vertical attachment in a chosen location.
Of course, apart from vertical installation, users can easily place the UPS on or next to a desk where it is accessible. The appealing design eliminates the need to hide the unit - the device blends well with the home / office interior.
Efficient, functional Line-Interactive UPS for the 21st century.
PowerWalker VI MS series UPSs are available in the following power options: 600/800/1000VA. Such capacity is sufficient to support the operation of our home PC / laptop with a monitor, gaming console with TV, or other popular consumer electronics that can now be found in modern households. All of that can be backed up by the UPS in silence - the noise level is less than 40dB.
There are 8 French [Type E] or Schuko [Type F] outlets on the front of the unit [depending on the chosen model]. Among those 4 of them are for surge protection only. The other 4 outlets are designated for the equipment, of which operation stability is a priority. In the event of power outages, they will be powered by an efficient internal battery.
Additionally, the UPS is also equipped with a USB port, which can charge our smartphones and other mobile devices with the power of 2.1A. Included RJ-45 input/output ports can also secure our LAN connection. To summarize - if you are looking for an easy to use and install, versatile uninterruptible power supply for home / business, then the VI MS UPS series from PowerWalker will fulfill all your needs!
Learn more:VI MS SERIES UNINTERRUPTABLE POWER SUPPLIES
Place an order with your sales associate or via our E-Trade system Click HERE to log in