Created: May 11, 2020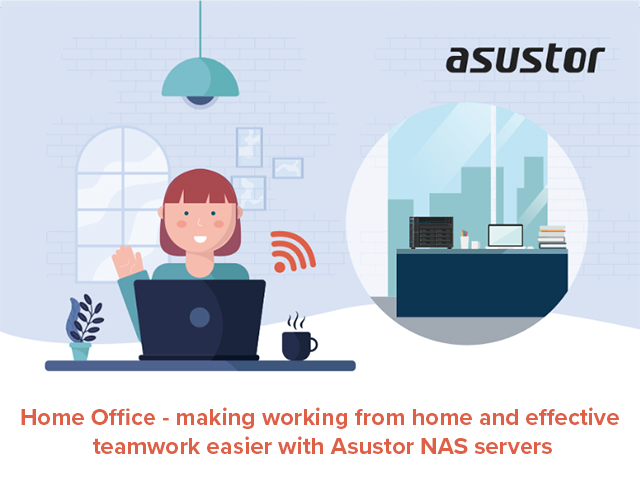 Home Office - making working from home and effective teamwork easier with Asustor NAS servers
Asustor NAS devices are not only modern data warehouses. They are also platforms that provide a variety of opportunities to work and cooperate remotely. Virtual private networks, data synchronization, or cloud-based office suite are selected options to maintain business continuity while keeping a social distance.
ADM OS-based Asustor NAS servers allow access to data from anywhere in the world. Simply use the EZ-Connect function to log in via a website or mobile app. This way, employees do not have to be in the office to access critical documents without having to copy this data beforehand.
Asustor products can also be used as VPN servers. Simply install a free extension from the manufacturer's App Central. Then configure your virtual private network in a few steps and make internal network resources available to those who need them. All commonly used protocols are supported - PPTP, OpenVPN, and L2TP/IPsec.
DataSync and EZ-Sync applications, on the other hand, ensure real-time data synchronization, backup, and availability of information even when the online services from which they are downloaded, are not working at the moment. Companies and individuals using the popular Zoom video conferencing application can automatically capture and save conversations so that those not attending can listen to them later and stay up-to-date.
Asustor NAS owners can also utilize their servers for collaborative work on documents. The manufacturer took care of integration with OwnCloud and NextCloud cloud platforms and support for the OnlyOffice package. At the same time, the administrator has full control over the cloud and can change its settings at any time so that privacy is best protected.
All presented extensions for remote teamwork are available in the manufacturer's App Central store. There are also detailed instructions on how to install and configure downloaded additions to Asustor NAS devices.