Created: Feb 10, 2021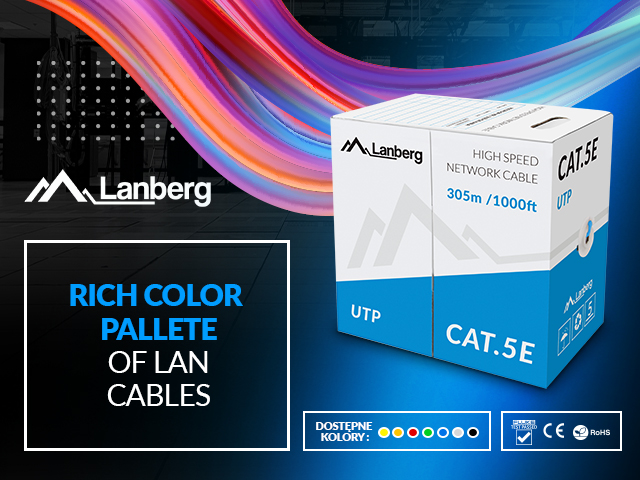 The biggest advantage of the wired transmission medium is its speed and reliability. When creating large network infrastructures, we want to be sure that after many years they will be as efficient as they were on the very first day. However, from the start, you need to be sure that the product used is of the highest quality - durable and resistant to transmission interference.
Top-quality workmanship
Each strand in Lanberg's cable is made of 100% pure copper, which, unlike CCA Ethernet cables, does not cause any attenuation that could lead to packet loss and, as a result, slow transmission. The product is ideal for use in PoE power networks, effectively delivering power supply over long distances.
In combination with HDPE insulation (high density polyethylene), the cable is resistant to bending, stretching and mechanical damage that may occur during use, thus saving time and money spent on repairs.
Ease of use
305 m Lanberg cables are pre-wound on a drum, which greatly helps with their installation. It is much easier to cut exactly as many meters of cable as we need without having to untangle it. Storage and transport of these cables is not a problem.
Lanberg's offer includes 7 different colors of Cat.5e UTP cable, the alternating use of which greatly helps with navigating through the entire network, separating individual connections according to the adopted criteria.
Fulfilled FLUKE test requirements
Knowing the requirements of our customers, the Lanberg brand set a very high specification bar that our LAN cables must meet. Ethernet cables have undergone a series of tests developed by Fluke Networks to investigate values ​​such as attenuation, crosstalk as well as rebound (see the product sheet for a full report).
The products have successfully passed all tests, so we can be sure that the LAN cabling we offer is trustworthy and meets the specification 100% compliant with the standard of Category 5e wires.
LINK TO PRODUCTS:Lan cables cat.5e UTP
PLACE AN ORDER FROM YOUR SALES MANAGER OR IN OUR e-Trade SYSTEM, Click HERE to log in