Added since: 2020-10-27 Print
NETWORK ATTACHED STORAGE 1U RACK, 4-BAY, ASUSTOR AS6204RS + RAILKIT

Manufacturer:
Impakt code:
Z31210
Manufacturer code:
AS6204RS/RAIL KIT
EAN:

4710474831173

Warranty:
36 months
Unit measure:
PC.
Number of items in a package:
1
Extended warranty:
Not available
Product description
Features
Download
HIGH PERFORMANCE, COST-EFFECTIVE ENTERPRISE STORAGE AS6204RS, 4-BAY
- Comprehensive backup solutions and virtualization support
- RAID data protection for your critical digital assets
- Folder based AES 256-bit encryption for outstanding security and performance
- Seamlessly integrates Windows AD for simplified management
- Integrates enterprise and smart surveillance applications
Supreme Stability and Security
Highly stable storage equipment is critical in enterprise environments. The AS6204RS/AS6204RD is equipped with a powerful Intel processor and 4GB of memory, providing stable and reliable operation. This combines with ADM's RAID storage technology and AES 256-bit folder based encryption to provide efficient multi-user access and data security.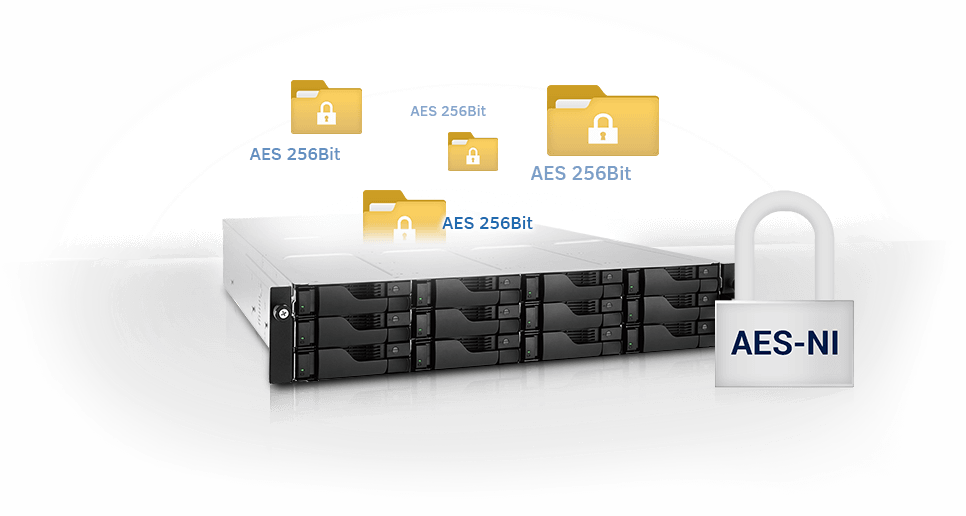 Extreme Transfer Performance
The AS6204RS/AS6204RD is equipped with high speed Gigabit LAN ports for demanding enterprise applications, while also providing stable performance and enhanced productivity. Performance under iSCSI reaches read and write speeds of up to 357.66 MB/s and 307.1 MB/s.
High Capacity Cloud Storage
The AS6204RS/AS6204RD is a cost-effective large capacity NAS designed for enterprise environments. Users can install four 10 TB hard disks to immediately create a high capacity storage space of up to 40 TB. The AS6204RS/AS6204RD supports online capacity expansion, allowing for the flexible purchase of enterprise storage equipment. When your budget and storage requirements are smaller, you can purchase a smaller number of hard disks. Additional disks can be purchased as your storage requirements grow. Combined with ASUSTOR's MyArchive storage technology, this allows you to effectively achieve unlimited storage.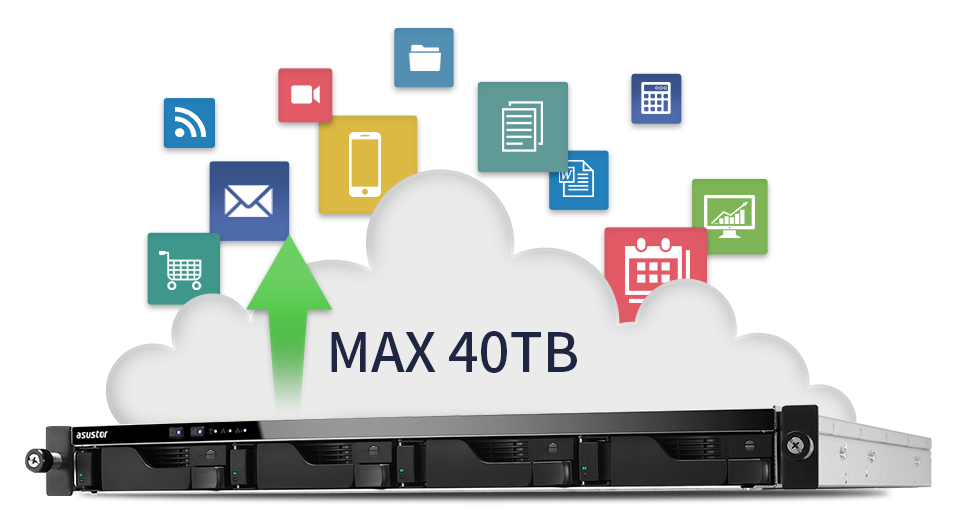 Enterprise Backup
AS6204RD features comprehensive backup solutions. The built-in redundant power supply and 4 Gigabit Ethernet ports effectively increase reliability, data integrity and execution speeds. The Ethernet ports and power supply all feature failover capabilities (when one fails, the other can continue to operate) in order to ensure for continuous data availability.

Agile Expandability
Businesses require flexible and agile storage that is able to integrate with existing resources and equipment. The AS6204RS/AS6204RD features USB 3.0 ports, 4 Gigabit Ethernet ports and dual-channel memory allowing the NAS to easily connect to external devices such as USB printers, UPS power supplies and USB external storage, making it an optimal all-in-one enterprise network storage solution.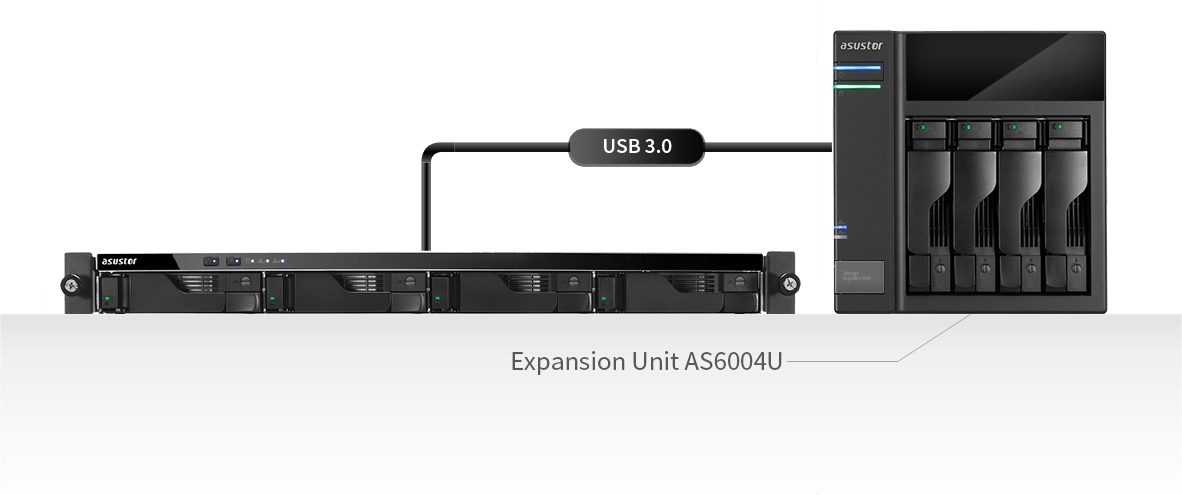 Secure Disk Tray Lock Design
In order to help users avoid accidentally pushing disk tray buttons and releasing hard disks during operation, ASUSTOR has added a new lock mechanism to its hard disk trays. The lock's flat-head design ensures that users will not need any special keys or tools to unlock it, only a simple flat-head screw driver. The new disks trays can be used with all ASUSTOR NAS devices, providing an additional layer of security for applications requiring the frequent swapping of hard disks (e.g., MyArchive).

"Find Me" Function and Service Light for Server Rooms
In enterprise environments, storage devices are commonly placed together in a server room. In order to allow administrators to quickly find the NAS from among many servers the AS6204RS/AS6204RD provides a dedicated button on front panel. When this button is pressed, the LED service light on the rear panel of the NAS will light up. ASUSTOR also offers the mobile NAS management app, AiMaster which provides the exclusive Find Me function. When Find Me is activated, the system status light on the front of the NAS will flash and the system buzzer will sound, helping users to quickly find the NAS.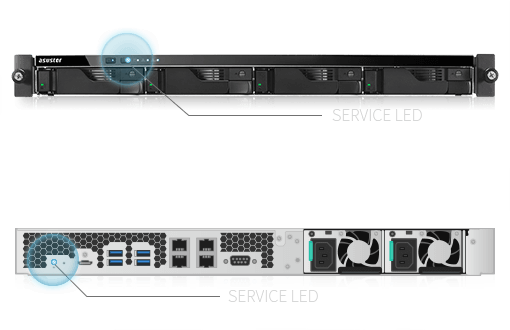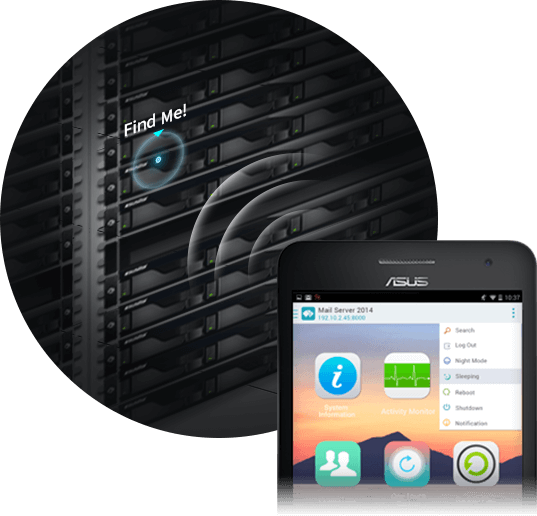 Fast! 3-Step Seamless System Migration
ASUSTOR NAS's dedicated ADM operating system provides a simple operation interface and a variety of management tools for enterprise MIS staff. These tools include online hard disk capacity expansion, 3-step seamless system migration, event notifications, and comprehensive support for all 13 Windows ACL file permissions, allowing for close integration with AD domains and providing simplified IT management and increased productivity.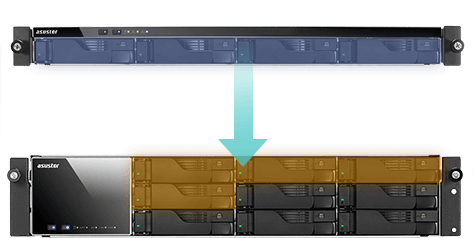 PC-less Software Installation
Mobile installation with AiMaster takes only 3 steps! Finding your NAS, system initialization and installation, power management, ADM firmware updates, system information and more are all available from the convenience of your mobile device at any time.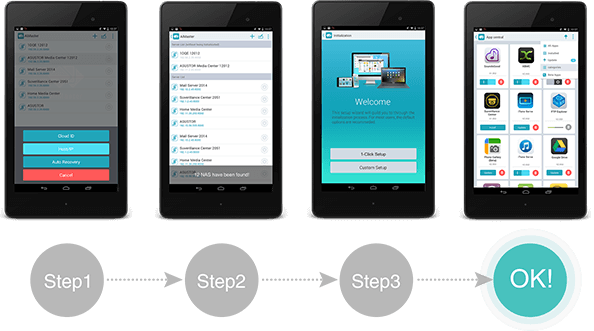 Seamlessly Integrate Virtual Storage
The AS6204RS/AS6204RD provides enterprise-class hardware and software and is compatible with VMware, Citrix, Hyper-V virtual storage environments. iSCSI and NFS support allow it to seamless integrate with existing IT environments, providing an optimal and cost-effective storage solution.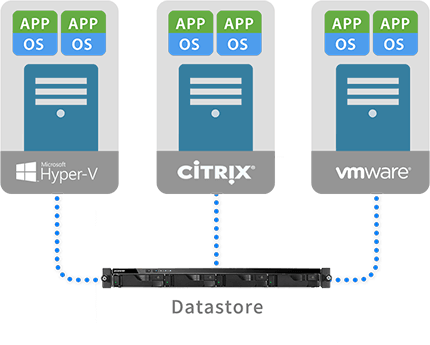 iSCSI LUN Snapshots. Stable, fast, capacity-saving
ASUSTOR's snapshot technology provides almost instantaneous creation of snapshots. It saves a significant amount of time and storage capacity when compared with traditional LUN backups. Should files become damaged or corrupted, the simple and intuitive interface allows administrators to quickly restore data, completing disaster recovery in the fastest time possible and providing uninterrupted service.

Virtual Machine Applications. VirtualBox + ASUSTOR Portal = PC
Turning your NAS into a computer with 24/7 availability and tremendous energy efficiency is no longer just a dream. After upgrading the AS6204RS/AS6204RD to 4GB of memory or more, you will be able to use VirtualBox to install different types of operating systems to your NAS, creating virtual machines. After creating a virtual machine, your NAS can become your company's backup computer, allowing IT staff maximize resources and achieve optimal effectiveness.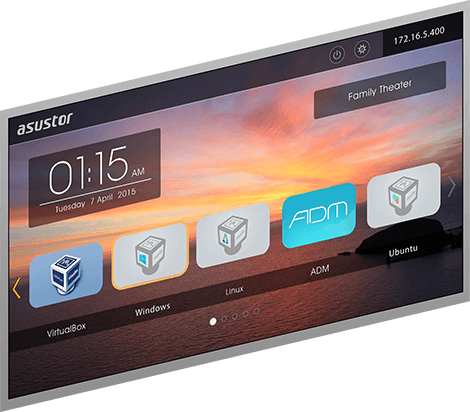 Mobile Virtual Machines
In addition to using virtual machines locally via HDMI, you can also remotely use ADM to open already installed operating systems in VirtualBox or use any mobile device (notebook, phone, tablet) as your mobile virtual machine. This makes it convenient for small and medium businesses to perform tasks such as hosting websites, IT management, Web development, application design or even basic word processing, effectively reducing operating costs and optimizing usage of resources.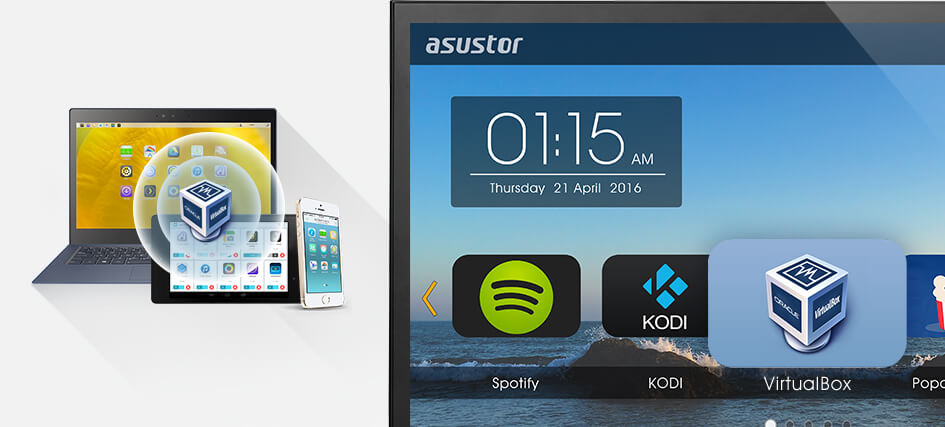 Efficient Management of Your Network Environment
ASUSTOR NAS integrates many network management tools including the DHCP server function which can automate IP assignments on your network. Furthermore, Syslog Server can be used to centrally aggregate system logs that are spread out over various network devices for storage and management. These functions allow IT administrators to efficiently manage equipment on enterprise networks, enhancing productivity.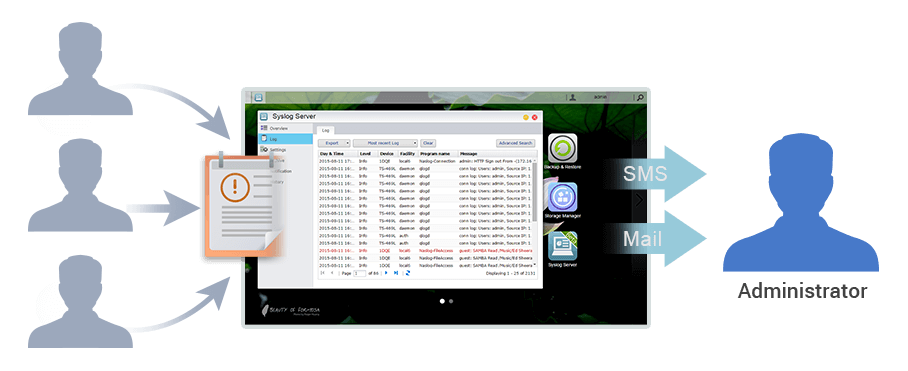 Backup and restore: complete backup solutions
ASUSTOR NAS provides complete backup solutions for use in hybrid enterprise environments. You can easily schedule or perform instant backups no matter if you are using Windows, Mac OS X or Unix-like operating systems or devices like tablets, laptops or smartphones. Unique two-way backup functionality also allows each ASUSTOR NAS to act as a passive and active backup server providing added flexibility for deployment in any backup topology. The exclusive mission mode function further ensures the completion of backup jobs, while iSCSI LUN snapshots provides efficient data access and backup management in virtual storage environments.
Windows PC: Backup Plan
Mac: Time Machine
Unix: Ralus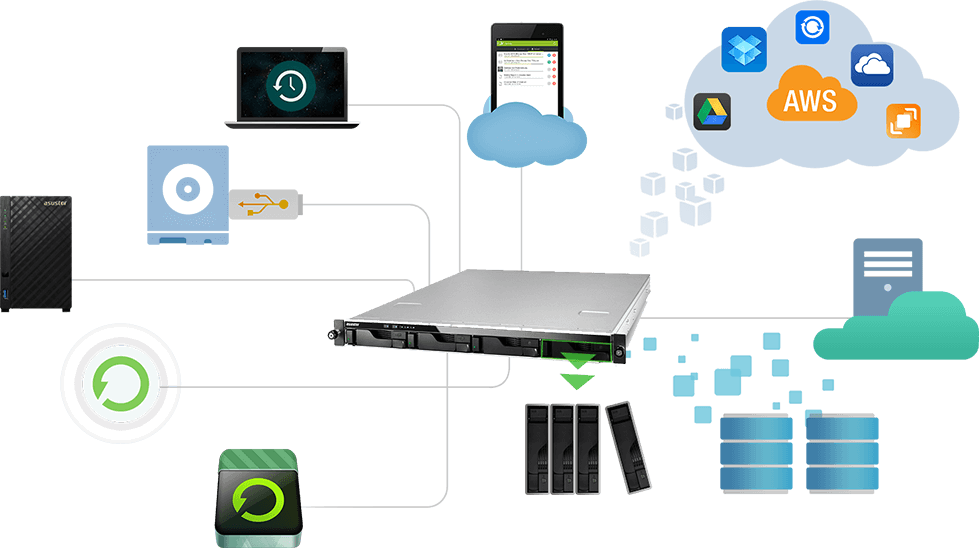 Exclusive MyArchive Cold Backup Technology. Unlimited Capacity Expansion
MyArchive cold backup technology turns NAS hard disks into removable storage archives. Directly insert a MyArchive hard disk into the NAS to easily access, backup and share terabytes of content.
- Saves power during system standby
- Create an unlimited number of MyArchive hard disks
- Utilizes built-in SATA 6 GB/s interface for faster data transfers
- Compatible with add-on NFS/EXT4/HFS+ file system devices
- Supports AES 256-bit encryption
- Decryption via physical USB key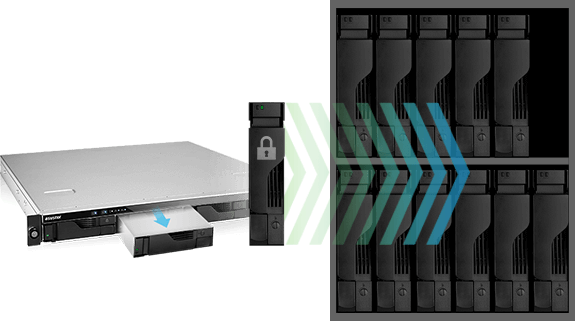 App Central
Unleash the unlimited potential of ASUSTOR NAS. The applications that come pre-installed with each ASUSTOR NAS device are just the beginning. At your convenience, you can browse through and download any applications that peak your interest from App Central. Whether your interests lie in business, website construction or even digital home entertainment, App Central has got you covered. With over 200 unique Apps, App Central provides you with the boundless variety of applications that you require to satisfy your digital lifestyle needs. Explore the unlimited potential of ASUSTOR NAS devices while creating a personalized NAS device for yourself.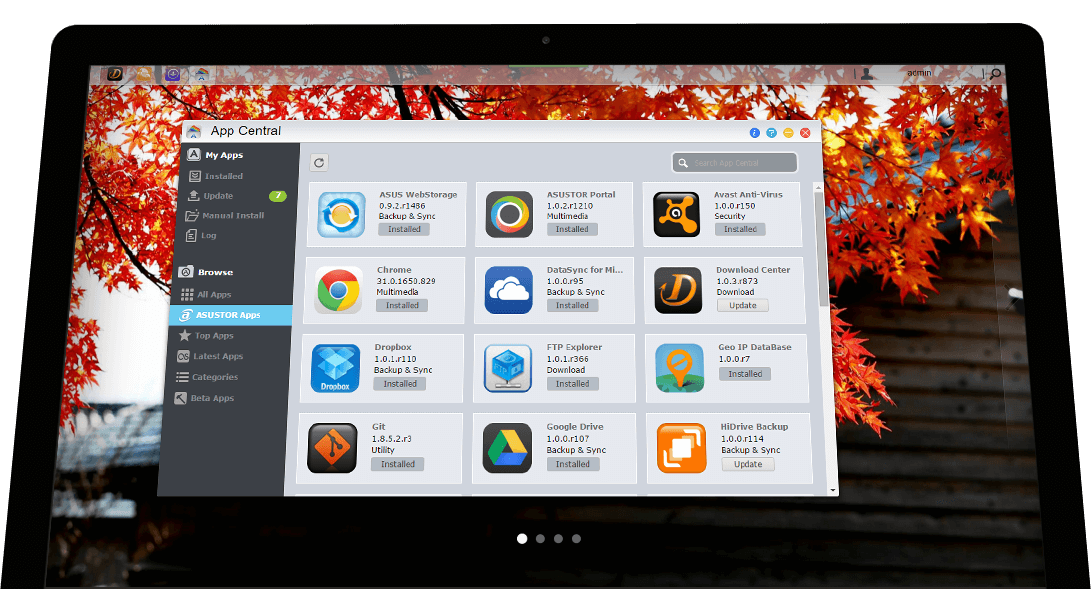 Create a multifunctional Server
With regards to hardware, the ASUSTOR NAS is equipped with a rich variety of I/O interfaces, allowing enterprise users to flexibly integrate existing equipment. With regards to software, users can use App Central to install a wide variety of free enterprise Apps, saving on costs and increasing productivity.

Enterprise Surveillance System
The powerful ASUSTOR NAS provides optimal reliability for home and SMB users looking to set up a surveillance system. 4 free camera channels are offered, making it an extremely cost-effective surveillance solution for users with smaller demands. For users with larger demands, the number of camera channels can be expanded up to 25 via purchasable camera licenses. After installing Surveillance Center and its corresponding mobile app AiSecure, users will also be able to stream live surveillance feeds to their smartphones while on the go, keeping an eye on their most valued assets from anywhere.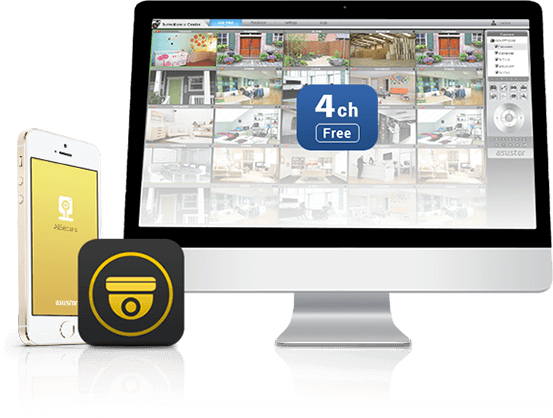 Mobile Apps
ASUSTOR's exclusive Cloud Connect technology allows you to connect to your NAS from anywhere with your Mobile device in order to access and share your files. ASUSTOR mobile apps provide pass code lock functions in order to protect your privacy and data. You can also make use of HTTPS connections for even more added security.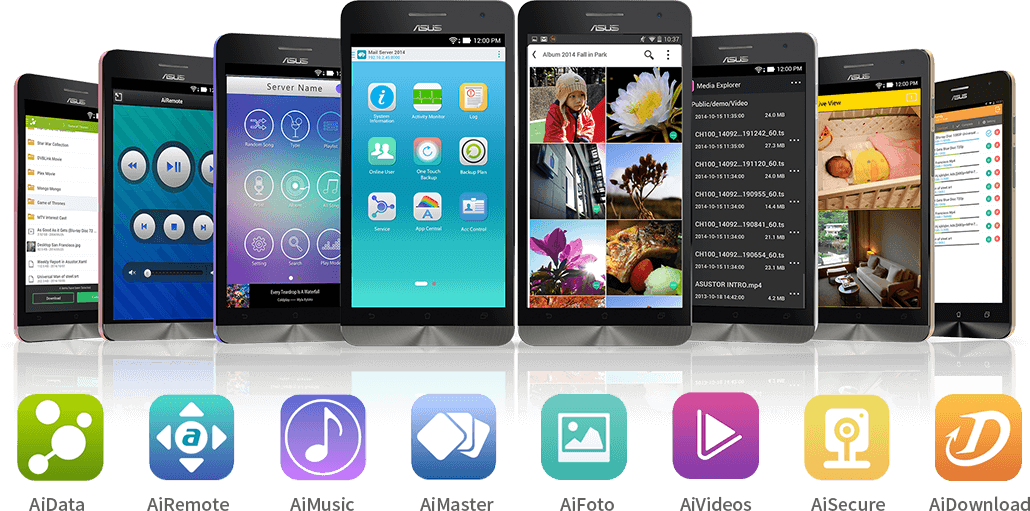 First-Class Product Warranty
All ASUSTOR NAS products come with a 3-year warranty. ASUSTOR continues to make customer service a priority in providing the highest standard of after-sales service and technical support.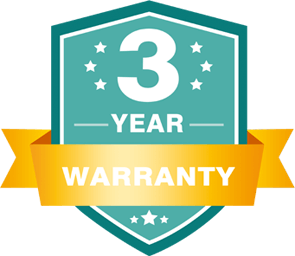 *The following product also includes the railkit [model 92H5-MR0001] for installing the NAS server within 19" server cabinets.
| | |
| --- | --- |
| Type of casing | Rack 19", Rack 1U |
| Size | 19" |
| Supported HDD | 2.5" / 3.5" SATA II/ III or SSD x 4 |
| Number of disk bays | 4 |
| Supported disks | HDD, SSD |
| Maximum logic capacity | 40 TB |
| Supports Single Volume Larger Than 16TB | No |
| MyArchiveDisk Bays | 2 |
| Number of processor cores | 4 |
| Processor Model | Intel Celeron 1.6GHz Quad Core (burst up to 2.08~2.24 GHz) |
| CPU Clock | 1.6 GHz |
| RAM | 4 GB |
| Type of RAM | DDR3L |
| RAID volume type | Single disk, JBOD, RAID 0, RAID 1, RAID 5, RAID 6, RAID 10 |
| Maxiumum network link speed | 1 Gbps |
| Hardware encryption | Yes |
| Hardware transcoding engine | H.264 (AVC), MPEG-4 Part 2, MPEG-2, VC-1, H.265 (HEVC) |
| Max LUN | 256 |
| Max targets | 256 |
| Maximum number of gropus | 512 |
| Maximum number of shared folders | 512 |
| Maximum number of concurrent connections | 512 |
| Max number of concurrent download tasks | 512 |
| Maximum number of users | 4 096 |
| VPN server | Yes |
| Max number of VPN server connections | 30 |
| VMware ready | NFS, iSCSI |
| Citrix Ready | Yes |
| Hyper-V Ready | Yes |
| Power | 35.5 W |
| Power consumption (operation) | 35.5 W |
| Functions | Surveillance Center Local Display, Photo Gallery |
| Power consumption (disk hibernation) | 21.9 W |
| Power consumption (sleep mode) | 1.5 W |
| Number of installed fans | 2 |
| Max number of Supported Cameras (With Add-On Licenses) | 25 |
| Max number of simulataneously displayable channels on local display | 36 |
| Max video resolution | 3840 x 2160 px |
| Noise level | 22 dB |
| Power supply | AC, Mains (230V), Internal Power Supply: 250W x1 100V to 240V AC |
| Protections | Tray lock |
| Number of ports | LAN - 1GB X4 |
| PCIe Expansion Slots | - |
| Software | ASUSTOR Portal, Download Center, Chrome, Dropbox, FTP Explorer, Google Drive, HiDrive Backup , Mail Server, Netflix, SoundsGood, XBMC, YouTube, iTunes |
| Connectors | HDMI, RJ-45, USB Type-A |
| Number of USB type-A ports | 4 |
| Number of Ethernet ports | 4 |
| Work signal | LED |
| ICT Height | 1 U |
| Length | 515 mm |
| Width | 439 mm |
| Height | 44.45 mm |
| Installed fans | 2x40mm |
| Weight | 7.65 kg |
| Illumination | No |
| Additional features | Onvif |
| Communication | Infrared receiver |