Created: Feb 11, 2020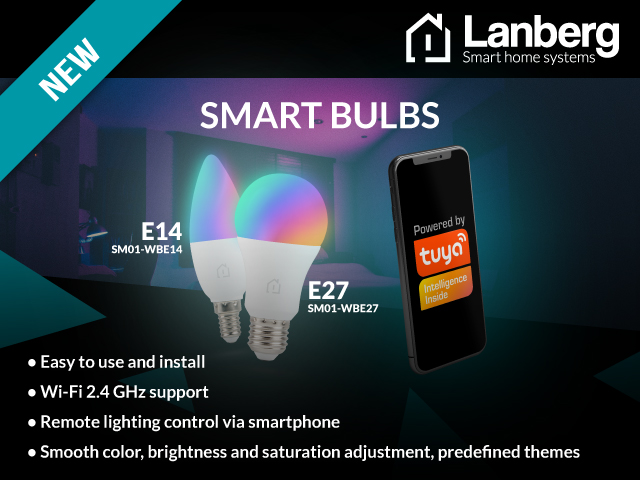 Another Smart products illuminating the new chapter of the Lanberg's portfolio are intelligent lightbulbs models: SM01-WBE14 and SM01-WBE27.
What are the key features of the new addition to the Lanberg's product offer in terms of lighting specifications?
SM01-WBE27: Power 9W, 800 Lumens light output, white temperature 2700K,
SM01-WBE14: Power 5W, 450 Lumens light output, white temperature 6500K.
What distinguishes these particular Smart bulbs from standard LED models?
• Full control of RGBW lighting with the free Tuya Smart app on Android and iOS mobile devices,
• Smooth adjustment of color, brightness, and saturation,
• Easy to configure and use,
• Cooperation with IFTT, Google Home and Amazon Alexa voice assistants;
What bulb caps do these new products have?
SM01-WBE14 model has an E14 cap, while its bigger and more powerful brother, SM01-WBE27, is equipped with an E27 cap.
If you want to gain full control over the lighting in your home/apartment, for a reasonable price, check out the offer of new SMART lightbulbs from Lanberg.
Find out more about these products: