Created: Dec 18, 2018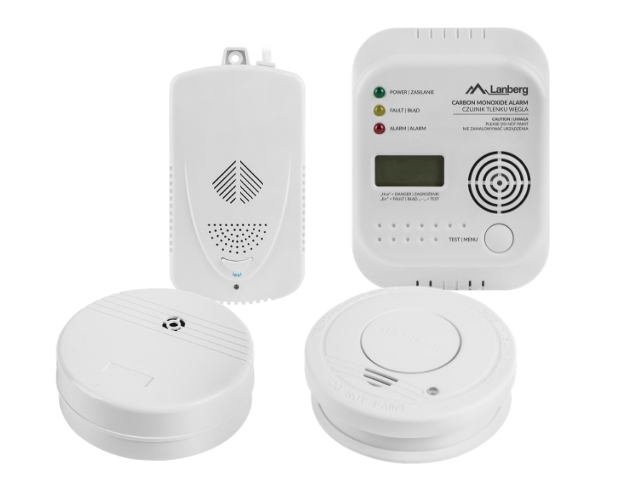 Five models of detector have just made their way to Lanberg brand portfolio. Some of them, just like the SR-104 model, can prevent any leaks / floods from occurring, Other models, such as the Lanberg carbon dioxide detector - SR-1005 – is able to save something much more precious.
Lanberg SR-1001 and SR-1002 products are used for an early detection of smoke in air.
The manufacturer ensures that the sensor mounted inside both devices will operate continuously for 8 years. When smoke is detected in the air, those two inconspicuous Lanberg detectors will raise an alarm. Emitted alarm signal reaches 85dB. For reference this is similar to how loud car horns are. Both devices have, in addition to the standard power supply, their own batteries. When the battery is low, detector will remind you to replace it. Moreover, detector SR-1002 is equipped with the Hush (mute) function, to silence the alarm, provided that it starts by an accident or because of some other, trivial reason (probably every person once managed to burn something in the kitchen, right?). Products detect smoke before our nose does.
Gas installations are commonly used in households everywhere. Although it is quite cheap and reliable fuel, it can be quite dangerous, due to its volatile form. Lanberg SR-1003 detector quickly discovers gas leeks and triggers an alarm, to prevent any further damage.
Carbon monoxide is no joke
Carbon monoxide (CO) is invisible and odorless. Not detected in time, can results in the loss of consciousness of any occupants and then, contribute to the death of people and animals indoors. As coal furnaces are still popular worldwide, carbon monoxide detectors, such as Lanberg
SR-1005, should become a common home furnishing. Simple operation and a loud alarm signal, triggered when the CO condensation in air exceeds the accepted values, are not the only advantages of the new Lanberg SR-1005 detector. Manufacturer used a high-quality sensor that allows the device to work effectively for 7 years. Similar to Lanberg smoke detectors, this product can also be mains- and battery-powered and it will inform you when there is a need to replace batteries.
Flooding the neighbor will be a thing of the past
Lanberg SR-1004 product is a modern leak detector. In every home or flat there are several potential sources of flooding, such as a washing machine or a dishwasher. Placed on the floor, device will instantly inform you about the leak, thus allowing you to minimize the losses. It is enough for the water to come into contact with the sensor and the device will immediately trigger an alarm. Water leak detector SR-1004 is battery-powered. Product can work in environments with a wide temperature range, allowing you to place the device next to a working washing machine or sink.